The Samurai Santa Boss was a limited time boss, and was the fourth boss to ever be introduced to Ninja Legends. The reason for release was to celebrate the Christmas of 2019. The Santa Bot V12.25 package was used for its appearance. The Samurai Santa Boss and had 6,500 Health and gave rewards
time more than the Robot Boss. It took 7 minutes for the boss to respawn after it being defeated. The Boss Portal was located beside the hill which was located in the Valley. This boss was added during the Christmas Update Part 1 on 2019, and was removed on January 5, 2020 when the Christmas map was removed. After the boss was removed, the portal was used for the Altar of Elements. The Samurai Santa boss was added in the Christmas update and was kept from Christmas update No.1 to Christmas update No.2.
Extra Information:
- This was one of the strongest bosses in the game, considering it had 6,500 HP/Health
- This was a limited time boss for only Christmas
- This was the only boss that gave out the new currency on Ninja Legends (Gems)
- This was the best boss in the game, back then considering it gives out gems and x15 multiplier for rewards.
- After the Santa Boss was removed. The Portal was transformed to be for the Altar of Elements Instead​​​.
- You needed to be the rank Ninja Legends+ to enter this portal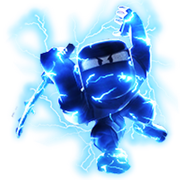 -It looks like a thicc robot